Reading at Knaresborough St John's CE Primary School
"The more that you read, the more things you will know.
The more that you learn, the more places you'll go."
Dr. Seuss
We believe reading is the key to unlocking potential and a world of learning. You will find our classrooms and library full of exciting books and a dedicated teaching staff committed to putting reading at the heart of all the subjects we learn. We make sure we read to our classes, from Reception to Year 6, each and every day.
Our Intentions
In reading we intend to:
to foster an enthusiasm for, and love of reading, a wide range of literature for life

give children access to a wide variety of literature that will allow them to not only develop intellectually but emotionally, socially and culturally. We intend to open their eyes to the world around them.

develop independent readers , who have the stamina to engage with age-appropriate texts

to close the 'word gap' by expanding children's vocabulary and embed this into their writing and oral vocabulary

enable children to use a full range of reading cues (phonic, graphic, syntactic, contextual) to monitor their reading and correct their own mistakes

enable children to progress to read fluently and expressively.
In phonics and early reading we intend to:
present high quality, systematic phonic work as defined by phonics programmes (Little Wandle Letters and Sounds)

enable children to start learning phonic knowledge and skills as soon as they start EYFS with the expectation that they will become fluent readers, having secured word building and recognition skills, by the end of Key Stage One

ensure that the children apply phonic knowledge as their first approach to reading and spelling, even though all words do not conform to regular phonic patterns
We will do this through a progressive curriculum in school and by working with parents and carers to ensure that children are immersed in an environment in which they are encouraged to read for pleasure and for improvement.
Overview of Reading at St John's
Please click on the booklet below:
Reading and Phonics
Daily phonic and reading sessions are taught throughout EYFS and KS1 using the Letters and Sounds Little Wandle scheme. To view the programme overview that shows the progression of GPCs and tricky words taught term-by-term click here. A bank of resources and videos to help you support your child with saying their sounds and writing their letters can be found on the parent section on the Little Wandle website. Please click on the image below: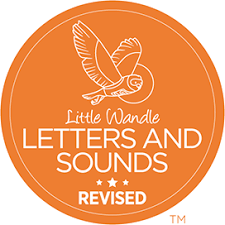 We continue teaching phonics through spelling lessons in Key Stage 2 .
Across school, we use the structure of VIPERS (Vocabulary, Inference, Prediction, Explaining, Retrieving and Summarising/Sequencing) to support the teaching of Comprehension skills. Click on the links to view our VIPERS documents for each key stage.
Children will bring home two reading books to share with you at home:
a reading practice book matched to the child's phonic stage that they can

read independently.

a sharing book that they can talk about and enjoy with their parent/carer.
Our online reading platform is called Bug Club
Reading for Pleasure
Reading for pleasure is an important part of every day at St John's. We provide a range of opportunities and materials to suit all children and involve our parent and wider community. For example, visits to the local library, mystery reader with parents/carers, reading buddies in school, big reads, book swap and daily outdoor reading. Wondering what to read next? Click here for our recommended reads.
Supporting Parents
In this section, parents will find links and resources that will help to foster a love of reading for your child. If you know of any more resources, books or websites that you feel would be helpful to share with the rest of our school community, then please let us know.
Policies and Guidance
The Reading Framework (Teaching the Foundations of Literacy)
Overview of Reading